General Anthony Zinni, USMC (ret) who became in retirement the U.S. Peace Envoy for Israel and Palestine and with whom I served over 30 years ago when he was a new Major has endorsed the petition. General Zinni is a retired Marine 4 star general. With General Zinni we now have at least one 4 star general representing each branch of our Armed Forces.
General Zinni is perhaps one of the most distinguished names to endorse Audie. Although not a household name, he is a "Washington, D.C." name and is well-known in American politics.
I invite everyone to peruse his impressive biography. I think you will find it hard to find anyone more impressive. In addition, it is believed that he was among President Obama's top 10 choices as a potential running mate for Vice President in 2008 but wasn't interested in the job.
I am very pleased to have this great American among our distinguished signatories.
Here is his bio:
http://en.wikipedia.org/wiki/Anthony_Zinni
Here is his endorsement: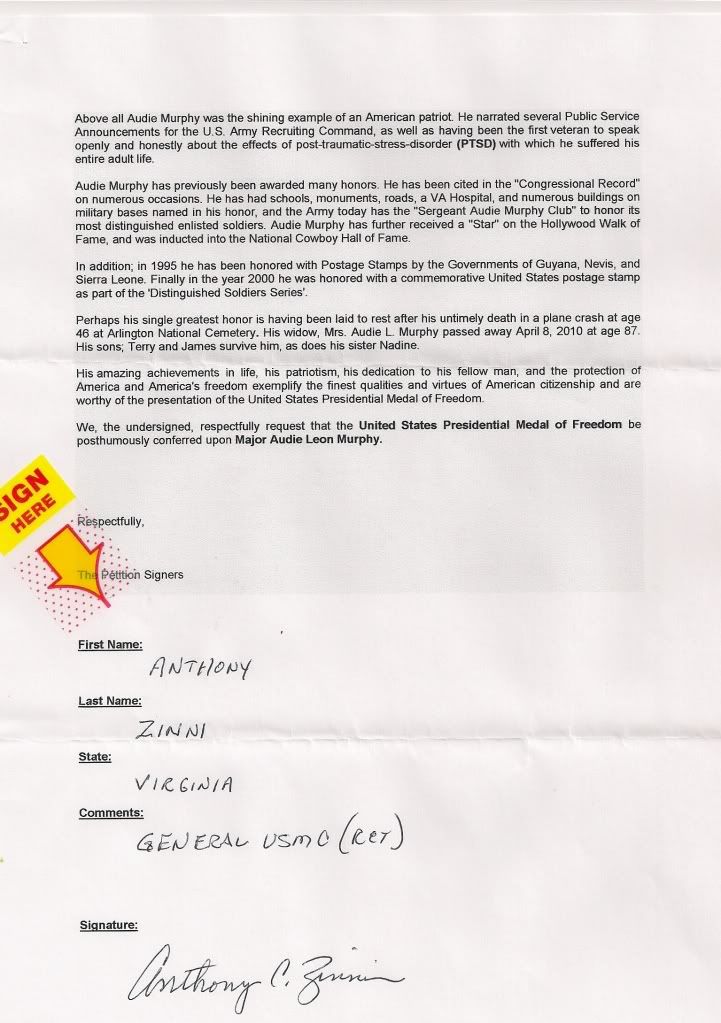 Thanks,
Dave
_________________
"I believe in all the men who stood up against the enemy, taking their beatings without whimper and their triumphs without boasting. The men who went and would go again to hell and back to preserve what our country thinks right and decent."