Lieutenant Colonel Anthony B. Herbert
, who was selected by the Army in 1951 to recognize all combat soldiers of the Korea War and brought back to the U.S. a hero to help promote the war and given the title
"the most decorated soldier of the Korean War"
(although not really true) has endorsed the petition for Audie.
Colonel Herbert received
five Silver Star Medals
,
four Bronze Star Medals
, and
four Purple Hearts
, and is the only foreign recipient of the the Osminieh Order, a breast badge awarded for heroism by the government of Turkey. At 23 Herbert was one of the youngest Master Sergeants of the War.
Colonel Herbert is very reclusive (perhaps I should say private), so I was shocked today when I went to the mailbox as not only had he signed the petition, but he enclosed an original photo of he and Audie taken together on the set of "World in My Corner." I had not seen, as best as I can remember, that particular photo before. In the image they are swapping copies of their memoirs.
On the verso, he penned his comment in support of the petition and clarified the rumor that has always existed that he and Audie did not like each other, suppossedly as I have heard over the years due to the "most decorated" issue and comparision of their combat records. From the comment there can be no doubt that these two were indeed very fond of one another and shared mutual respect and admiration.
Not to denegrate Colonel Herbert's heroism but there were many that were
more
decorated depending on how one defines
decorated
, but Colonel Herbert was the one that was selected by the Army and is
considered
to be the
"most decorated"
of that conflict.
In any case, Anthony Herbert served during Korea and Vietnam and eventually retired from the Army and became a clinical psychologist.
Colonel Herbert has a very interesting story, having been wounded
14
times, and in particular how he got
"sideways"
with the Army during the Vietnam War when he made allegations of atrocities being committed by U.S. soldiers.
If you aren't familier with the Herbert story please take a moment to read the bio I am attaching a link to and if you have further interest, read his autobiography
"Soldier"
which I read as a young Marine. It should be in your local library.
History it seems has vindicated Herbert for his opinions and reports of atrocities during his time in Vietnam and it is obvious that the "brass" was a bit ticked off at him for his reports of those allegations.
Lastly, I feel Herbert is a very humble man as well, and in particular, I like this comment of his about leaving the Army and how he felt about reporting the truth (atrocities) to his superiors which in effect cost him his career.
Herbert reflected;
"If you stick by your guns, if you stand by the truth, you win. I feel good about my time in Vietnam and my time in the Army. As my friend Sergeant Major John Bittorie once said, 'There are two kinds of military reputations. One is official and on paper in Washington DC. The other is the one that goes from bar to bar, from the mouths of those who served with you there.' That is the only reputation I ever really cared about."
Here is his bio:
http://en.wikipedia.org/wiki/Anthony_Herbert_(US_soldier)
Here you will find a first-hand account of his Vietnam heroism in a letter written by one of his soldiers:
http://www.joebageant.com/joe/2007/04/remembering_col.html
Here is his endorsement: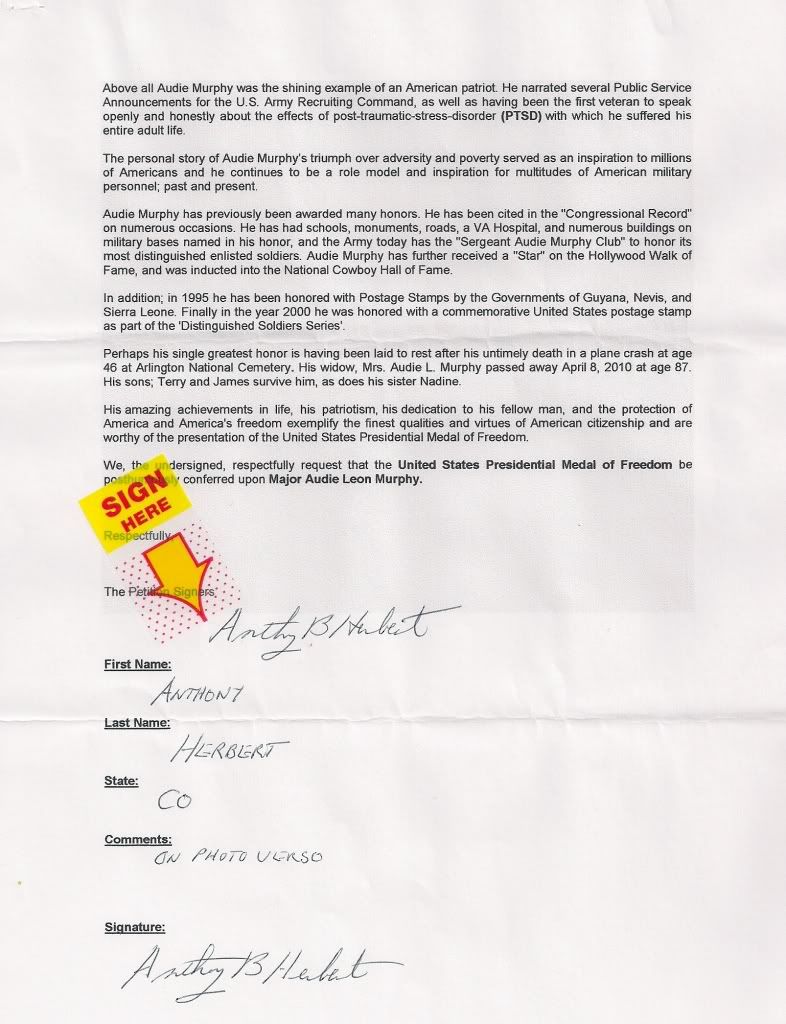 Here is his penned comment on the verso of the photo.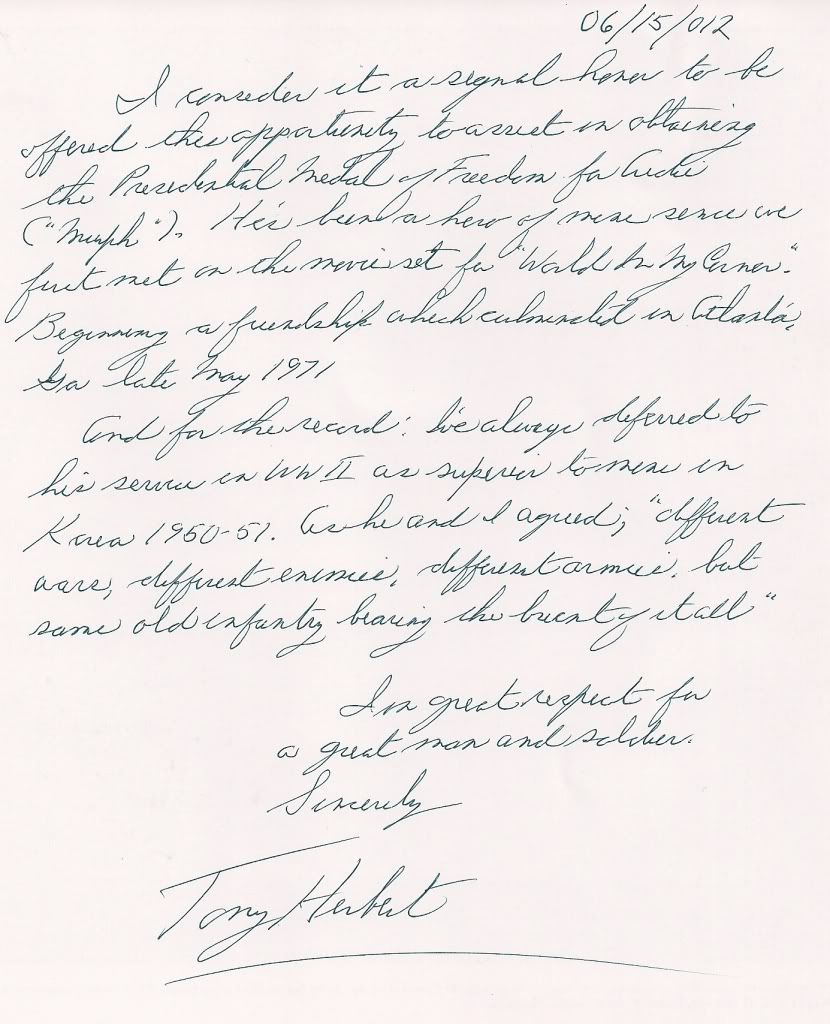 Here is the pic Colonel Herbert provided to me.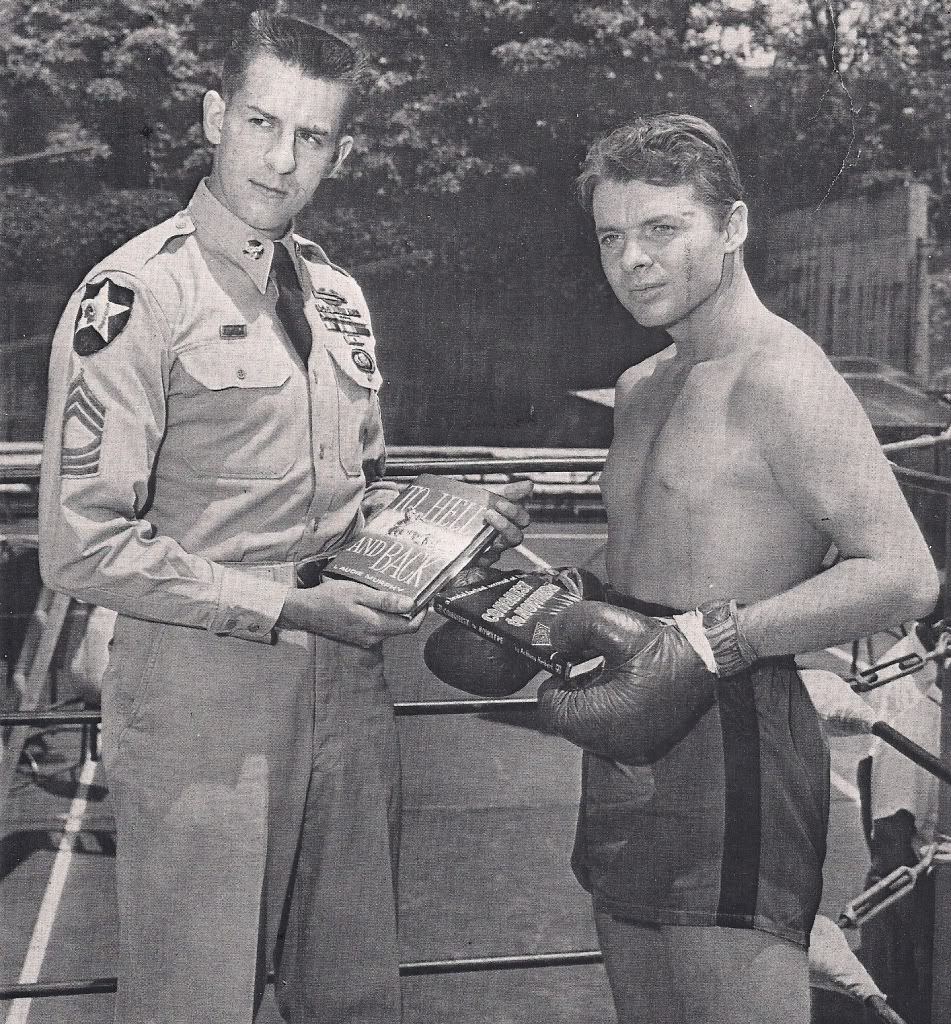 Thanks,
Dave
_________________
"I believe in all the men who stood up against the enemy, taking their beatings without whimper and their triumphs without boasting. The men who went and would go again to hell and back to preserve what our country thinks right and decent."