As close as I can determine there are about 92 or so retired General Officers from the Army still living.
Of those #42 or approxtimently 1/2 have endorsed the petition for Audie.
I am not sure what the problem is with some of these retired general officers such as Generals Jack Keane, Wesley Clark, Montgomery Meigs, Barry McCaffrey, and General John Abrams (the son of General Creighton Abrams).
I do notice however one similarity, that with the exception of Abrams, the are all "talking heads" on the political circuit for Fox News, CNN, etc so perhaps they feel this is beneath their stature.
Of course, as retired General officers, one would think they would have the moral courage to do the right thing and put aside personal politics for the good of something larger than themselves. I guess not!
Anyway, today the 42nd general officer joined us with his endorsement of the petition for Audie. General Fred Woerner, a very distinguished and much respected flag officer returned the signed petition.
I am pleased to have the endorsement of General Fred Woerner. former Commander of U.S. Southern Command
General Woerner is a graduate of West Point, and is one of the true experts on Latin America. General Woerner is one of only perhaps 4 or 5 generals who have been relieved of command and forced to retire due to political differences with the Commander-in-Chief, the others being MacArthur, John Singlaub (who signed the petition), and Stan McCrystal.
In General Woerner's case, his relief was forced by then President George H.W. Bush due to a comment the General made with respect to Manuel Noriega and the invasion of Panama. I feel today as strongly as I did then that the General was wrongfully relieved by the President.
In any case, I am proud to have his endorsement.
Here is his bio:
http://en.wikipedia.org/wiki/Frederick_F._Woerner,_Jr.
Here is his endorsement: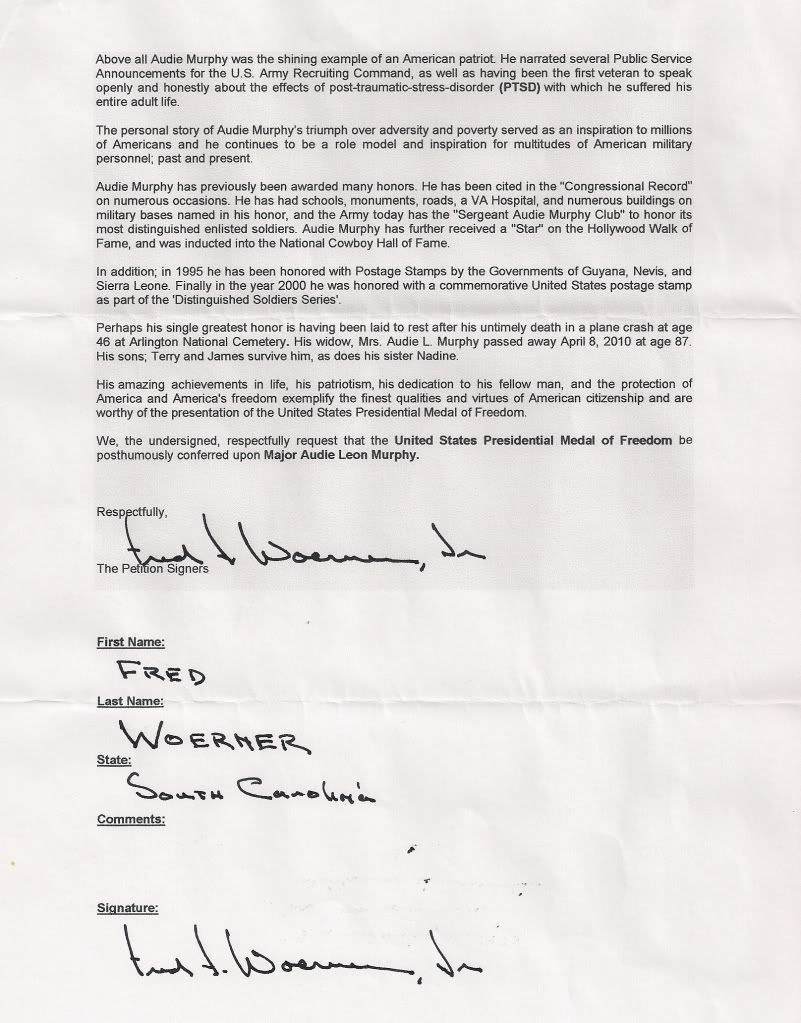 I'll keep chuggin' along!
Thanks,
Dave
_________________
"I believe in all the men who stood up against the enemy, taking their beatings without whimper and their triumphs without boasting. The men who went and would go again to hell and back to preserve what our country thinks right and decent."