Hi Everyone:
I went to my local Wal-Mart today and saw a notice that country musuc singer Craig Morgan would be in the store at 3:00 p.m. signing autographs.
Did my shopping, went back home, printed a petition and went back to wait in the line.
He was very nice and polite and was impressed with the VIP signatories (I took a list with me). He remarked
"Audie was indeed a great soldier"
and signed the petition.
I was in such a hurry, I forgot to ask him to write that comment.
Mr. Morgan served in the Army for 10 years and obtained the rank of Staff Sergeant in the Field Artillery, serving with the 101st Airborne for the invasion of Panama, and left active duty in 1996.
In 2001 (post 9/11) he re-enlisted in the Army Reserves where I think he still continues as a Staff Sergeant. He is involved in soldier charities as well as the USO and has been to Iraq seven times performing for the troops.
Last month, he also rescued two little girls from a burning home in his hometown and helped the local fire department extinguish the fire.
He has had 17 Billboard hits; seven (7) of which were in the top 10, 1 Gold Record, 1 #1 Hit and is a member of the Grand Ole Opry.
Rather you like Country Music or not; he is a class act! When I mentioned the petition and Audie there was
no hestitation
and
no questions!
He was all about honoring Audie with his signature!
Here is his bio:
http://en.wikipedia.org/wiki/Craig_Morgan_(singer)
Here is the story of the rescue:
http://www.popeater.com/2011/02/15/craig-morgan-fire/
Here is a link to his #1 Hit so you all can listen to the song:
http://www.youtube.com/watch?v=pm3aCyRD3Vg
Here is his endorsement: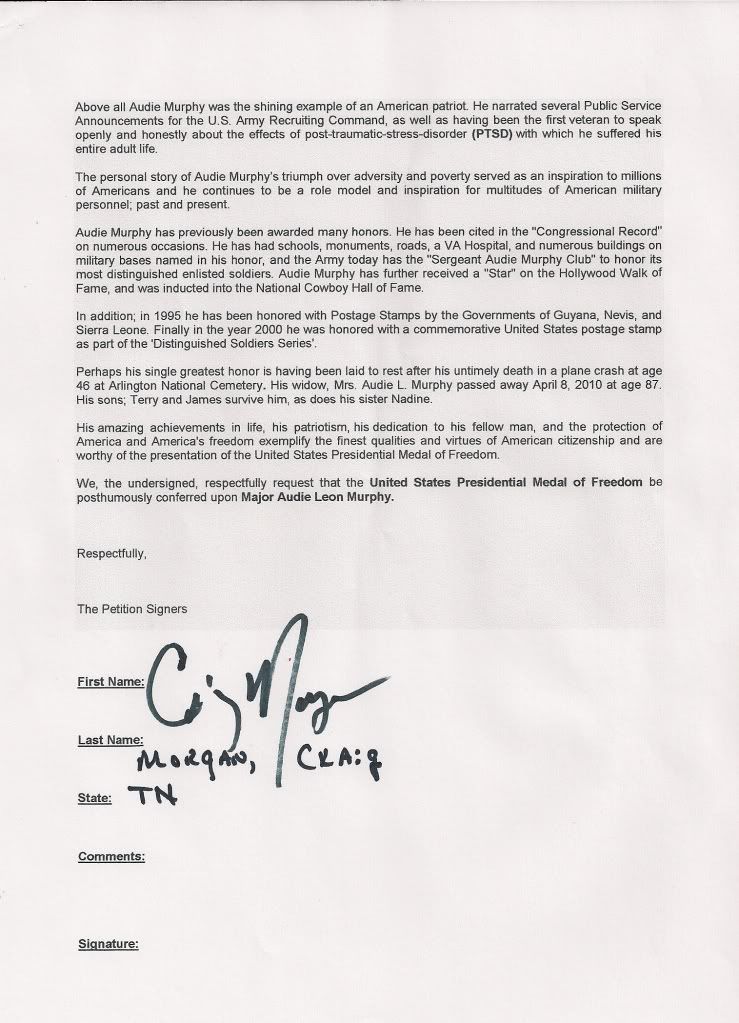 Thanks,
Dave
_________________
"I believe in all the men who stood up against the enemy, taking their beatings without whimper and their triumphs without boasting. The men who went and would go again to hell and back to preserve what our country thinks right and decent."